Introduction
A lot of the stuff in my lab comes from Ebay. Simply because this kind of equipment is hard or impossible to find in Europe. And if you find it, the seller is asking big money for it. Buying overseas is not cheap either, due to import taxes, and shipping costs.
And buying from Ebay has some risk to it. Of course, if you pay with Paypall, there is the "money back guarantee". Most of the times this means shipping back the item
, and depending on the seller the shipments must be payed. If you buy stuff from Ebay you know all of this.

Most of the times however, it's okay and there are no problems. And sometimes you find yourself in a situation which is just baffling.
What about a 54845A Infiniium Oscilloscope?

For some time I was looking for one of these. And I found a Ebay listing, made a best offer, which was accepted. For $1350,00 dollars the scope was mine. The scope was advertised as a working scope. So all in all it's still on the high side. These scopes aren't the best. But for what I have in mind it's more then good enough.
And then the scope arrives
After a week and a couple of day waiting the scope was delivered. And well the package wasn't that great. The scope could move around inside the box, which is bad. I wish that people sending equipment would learn to pack equipment so it can't move around, with enough protection around all sides. In this case I feared the most. Luckily the scope itself was wrapped in a good amount of bubble wrap, and it didn't destroyed the box it was in.
After unpacking and turning it on, the scope refused to boot. Due to a bad CMOS battery it want's me to press F1 on the keyboard. And luckily a keyboard was included, so after hooking on the keyboard, and pressing F1, the scope booted into Windows, and started the scope application. The first impression was not that good. But if this was all.. I'm not complaining..
Self test time!
While the scope was booted I noticed some strange flickering and weird behav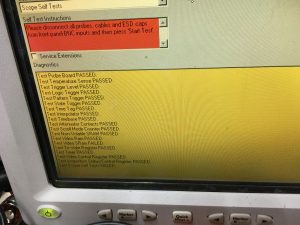 ior while channel 1 was enabled. I disabled channel 1, and it looked good… for a while then some other glitches I could not explain. Hmm let's do a self test.  And the self test failed on Video SRAM. And the second time  did a self test it failed on: "Tri State trig". This points into the direction of a board called "A6",which is a scope interface board.
It's dirty… real dirty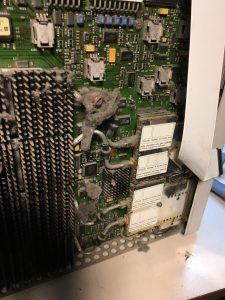 So maybe the card has bad contacts, so I decided to remove the case, and take a look inside. And that is when I noticed a lot of dirt. I have seen dirt in machines, but this is really bad. I cleaned most of it. Cleaned the A6 board, and sprayed some Deoxit on the contacts. and reinstalled  the board. Unfortunately, the problem stayed.
Time to contact the seller
Now knowing that there is a problem with the scope I contacted the seller, which replied with: "I"ll see what I can do, and else send it back and you get a refund".
After a good night of sleep I decided that sending the scope back in the original package, would be the end of the machine. The package would hold a second time. And I don't have other packing materials. And it also means shipping costs, and the value of the dollar and euro.. so in the end it will cost me money, even if I get a refund. So I started to look online for a A6 board and could find one for 50 dollars. Which I bought. I let the seller know what I did to get the scope going. I also told about the state the scope is in, and that it's not good. But that I went ahead and invested 50 dollar for a A6 card. The response I got was.. well i didn't know if a should cry or laugh. the exact response was:
"All I can say is wow! That is amazing. Can't thank you enough for doing that. I'm hoping it works out!"
Errr.. I don't know how to respond to that.
Self calibration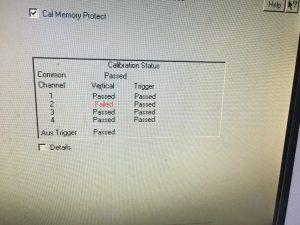 I went ahead and tried to calibrate the scope by using the self calibration process. This is a straight forward process. It only takes some time to complete.
When I started the self calibration tool, it looks like the previous calibration seems to have failed on channel 2. Not a good sign. This is just the kind of problems I'm afraid of. These scopes have hybrid ADC's. And it they fail, or there is some problem in the front-end.. it can be very hard to fix, and very costly.
And of course when I tried to calibrate the scope ,it failed. A lot of effort later by cleaning the hybrids the calibration process finally end successful. So now I only have to wait for the "A6" board, which is hopefully a working board, and I only have to swap the board, which is not very complicated.
In conclusion
When buying stuff on Ebay, there is always a risk that the item bought isn't exactly what is advertised.And yes I could have shipped it back, and got a refund. However due to the state of the packaging I know for sure the scope wouldn't make it in one piece. And spending 50 dollar seems the cheapest option. And the last thing I wanted was ending up in a discussion about a scope which was damaged during shipping.
To summarize: This scope was advertised as working, however:
Didn't boot due to a dead CMOS battery (easy fix)
A6 board is defective (bad SRAM)
The machine wasn't cleaned, and if I didn't had to open it.. I would not know about the dirt inside.. which could easily destroyed the machine due to lack of cooling.
Calibration failed on channel 2. Luckily I could fix this. But this could have been a major problem.
This machine should have been listed as "untested for repair or parts". If such a machine as this was advertised as such I wouldn't even considering buying. It took a lot of time and to get it to a point of a good working scope. But I rather would have spend this time on the project I'm working on where I need the scope for in the first place.